Hi,
Well in tribute to our friend Peter Mack we will have a look at "Cover is Blown".
Mike told me he wrote the bones of this track in about 10 minutes, a super fun feel we asked Mel to keep the drumming super simple and we did the same. 
Peter came up to the studio and recorded his first ever guitar part with a massive effort from Mambo Roberts, it was a special time that wasn't lost on us. 
The fabulous Bex sang some backing vocals, and so did my niece Madeline. 
The lyrics kinda speak for themselves and Mike had to explain to his wife he wasn't writing in the 1st person :-) 
So check out this fun tune that has taken on a special meaning.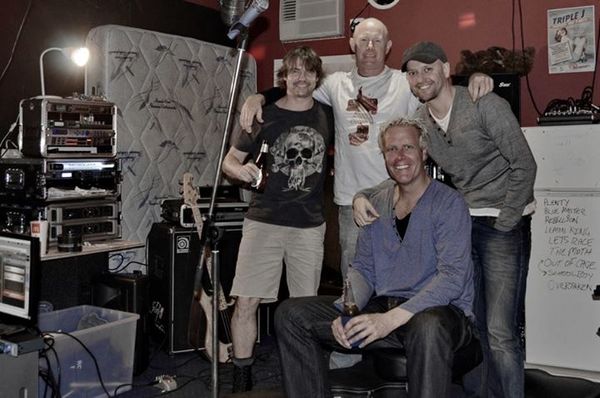 ---
Cover is Blown –Sukys/ Hangan 
(Mike's House Alfred Cove 2011)
Are you sure nobody followed you 
Lock the doors and  turn the phone off too 
Is there something  that you didn't do 
Have you got someone  to cover you 
Well let them keep on knocking man that don't  mean nothin 
Lets take this night and make it our own 
And if they keep on trying we'll just keep on  lying 
Until this little cover is blown 
Do you care what  they're gunna say 
Well they're gunna say  it anyway 
Just forget what  happened yesterday 
It's just you and me 
right here okay 
Yeah we best start runnin, you bet them knives  are comin 
They're comin just to tear us apart 
n' Hey shutdown 'n' run our little cover is  done 
You stole the best of me but you knew that from  the start
---
Taken from the album "Little Braches from Another World".
CLICK HERE to get it now on iTunes